Spinning Tips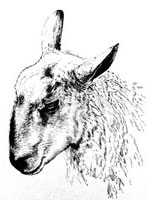 There is a range of fiber diameter typical to Bluefaced Leicester fleece that will influence the type of yarn best suited to your spinning project. The hisgher diameter fleces have a wider corkscrew curl and a crisper bouncier qualtiy that lends them better to projects such as warm mittens and textured hats. Typically fiber from Bluefaced Leicester rams and some ewes will range around and sometimes above 30 microns. Bluefaced Leicester fleece with higher diameter fiber also has a more pronounced sheen to it. There is simply a larger surface area on each fiber to reflect light. The fiber in this range blends nicely with Mohair for a linkier feel and fuzzy halo.
Fiber diameter closer to 20 microns or below is typical of Bluefaced Leicester lamb fleece and some ewes. This fiber blends beautifully with silk and angora rabbit, both very fine fibers. Since yarn made from this grade of Bluefaced Leicester fleece drapes nicely, but has low loft, I often blend a bit of fine Merino or Targhee into it.
The majority of Bluefaced Leicester fleece falls in the middle of this range and can be used alone or blended to give a variety of bright, softly draped yarns that have an excellent hand and skin feel.
Because it slips easily without tangling from the fold, I typically spin woolen style because I like the little extra loft this produces. However, for the slinkiest drape try long draw worsted spinning for an entirely different yarn. The reasult will remind you of kid mohair.
Because the fiber is typically quite long, 4-6 inches, the yarns can be spun loosely. This further contributes to a nice drape. They fiber is fine enough to spin it tighter for more definiton in the pattern when knitting or making lace, without making the yarn scratchy.

For very fine yarns, order Bluefaced Leicester lambs wool, or contact us for a selection of finest locks.
To order bluefaced leicester fleece or bluefaced leicester yarn click here: